11/08/2023 - 11/08/2023
Sheepsafari at Mittlandsgården August 11
Sheepsafari at Mittlandsgården August 11
Join the nature guide Caroline on an easy walking trail through the grazing land of Mittlandgarden. In a captivating way Caroline will tell you about nature, life in a pond and about the magical traits of the trees. You will also meet Sweden's largest beetle and feed the sheep by hand. The guided tour will include both present time and little of the Ölandic history in an easy going manner. Together we will create memories of Öland.
This guided tour suits both children and adults. The ground is uneven with some rocks and is therefore not suitable for trolleys. Clothing for outdoor activities and we recommend sneakers rather than sandals. Dogs can not come along.
This tour will be held in English every Friday from June 30 until August 11. If you can not make it a Friday, you are welcome to join a tour in Swedish (every Tuesday to Wednesday 10.00 – 11.30) and I will translate simultaneously.Welcome to Mittlandsgårdens Home of Wellbeing.
Price: SEK 75 per person (children 2-12 years), SEK 95  per person (audults)
Voices from the tour:
"Mittlandsgården is definitely worth a visit. We were warmly welcomed, and Caroline took time to explain a lot about this beautiful place. The kids were very happy to visit the sheep in the pasture. They have very very good honey too, besides beautiful other products!" Thekla
"Really interesting Tour and all explanations in english as Well! Many thanks!" Julia
"Nice place friendly atmosphere" Rik
About the guide: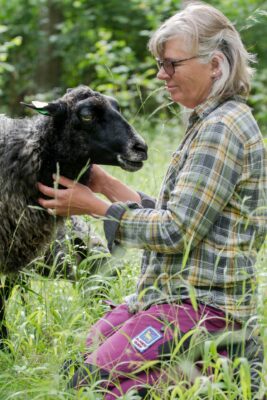 Caroline Kindblom Landtmanson, biologist, certified naturguide, Ölandsguide och certified forest bathing guide. Caroline¨s special interest is the cultural landscape and the Ölandic forest. She has great knowledge about nature and the landscape and present it in an easy going way to suit both adults and children. A walk with Caroline as a guide will give you new knowledge in an entertaining way. You will have many new memories to bring home.